Soroti District Receives Dummy Cheque of UGX 120,000,000/=
By Abraham Ekwaru Soroti District Receives Dummy Cheque of UGX 120,000,000/=
State Minister for Teso Affairs has handover dummy cheque of 120,000,000/= to Micro projects group of Soroti District Local Government.
The Office of the Prime Minister through the Ministry of Teso Affairs extended a grant to UGX 120,000,000(One Hundred twenty million shillings only) to the Parishes of; Arapai, Aukot, Merok and Acetgwen for Micro Projects Support.
Handover Ceremony of Micro projects support Dummy Cheque was presided by State Minister for Teso Affairs, Hon, Clement Obote Ongalo. Ongalo who is also the MP for Kalaki County while handing over the cheque asked the beneficiaries to make the best use of the money to improve their wellbeing.
He said the government of Uganda in service delivery, "now I want you the beneficiaries to ensure you put this money into the best use, my team will come down to monitor the progress of this groups," said the Minister.
Some of the benefiting group include Ribo Can Women Saving Group, Ajikidak Womens group, Ongoratok Youth Development group, Oijingai Ecatata Womens group, Amina Womens groups, Mugana Arapai Butchery Development group, Mugana Widows Produce dealrs, Otamite Framers groups, Ariet Aupakinos Elders groups, Aukot Teenage, and Akuja Emorikinos farmers group among others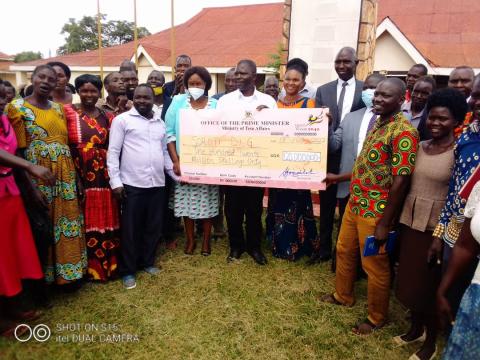 Receiving the dummy Cheque is the DCAO Soroti, Jane Akiror, District Chairperson Hon Simon Peter Edoru, Hon. Joan Alobo Woman MP for Soroti City and RDC Soroti Salim Kumakech and some of the group members as depicted in the group photo 
From Communication.