Soroti District, Aoja River Side Farm to Host First Agricultural Show
Soroti District Local Government in-conjunction with Aoja River Side Farm are in advance preparations to host the first Eastern Agricultural Show slated for March 4th to 6th 2022.
The first agricultural show to be held in Teso will take place in Aoja River Side Farm, Aukot Sub County in Soroti District, this was revealed during the on Thursday Press Conference held the district council chambers organized by Soroti district and Aoja River Side Farm. The Show is a three-year project aimed at benefiting about 68,200 farmers in Teso with 60% of the women population taking part.
Richard Ochen, a board member at Awoja river side farm says the event under the theme "Enhancing Agricultural Production through Practical Irrigation" is aimed at demonstrating to the people of Teso Sub region what the farming activities can do to ensure an increased food security across Teso Sub-region.
The show will focus on Apiary production, (Bee keeping), Poultry with main emphasis on indigenous chicken, piggery, Fish farming, Horticulture, Irrigation, livestock activities, Leisure among others. "I want to applaud Hon Hellen Adoa, the state Minister for Fisheries and Hon. Elijah Okupa the Mp Kasilo County who doubles as the Chairman of Teso cooperative Union for ensuring that this agricultural show takes place".
The Soroti District LCV Chairperson, Simon Peter Edoru Ekuu noted that, this show will be an avenue for primary and secondary schools to conduct agricultural learning sessions and for local farmers across Teso Sub-region to market some of their agricultural products. With key emphasis, Edoru said the Agricultural show will be a better Shopping area for our farmers to acquire quality seeds, breeds and better drugs for both crops and livestock to enhance quality farm production in Teso.
He then called upon all political leader, Community and civil servants to embrace the initiative believing that this show will help impart into them knowledge that can be of great importance after retirement. He pledges to invest and fully take part in the event for the good of the local community.
Moses Okello Eceku is the District Agricultural officer Soroti also noted that the Agricultural shows have greatly helped many regions to grow and hopes that the new Teso initiative will give farmers an opportunity to interact with experts on a number of issues that can help improve the agricultural sector.
"Aware that the agricultural season is underway, this is therefore the right time for framers to get well equipped on matters pertaining agriculture" He added. He now appeals to farmers to utilize this as an opportunity for our farmers to meet and interact with experts who will provide knowledge on how to better our economy.
Florence Imaikorit Oumo the Minister of Agriculture and Animal Resources in Iteso Cultural Union noted this will be an opportunity for them to showcase to the Ateker some of the indigenous local dishes in Teso. "We are going to cook a variety of local dishes like "Eboo, Emagira" among others".
Speaking as a representative of the Education institutions, Martin Okiria Obore the head teacher Soroti Secondary School says, this is an opportunity to for learning institutions to demonstrate to learners the relevance of agriculture in relation to the new education curriculum that demands for self-assured individuals, responsible and patriotic lifelong learners in society.
Organizations expected to take part in this show include among others NARO, SORUDA Caritas among others.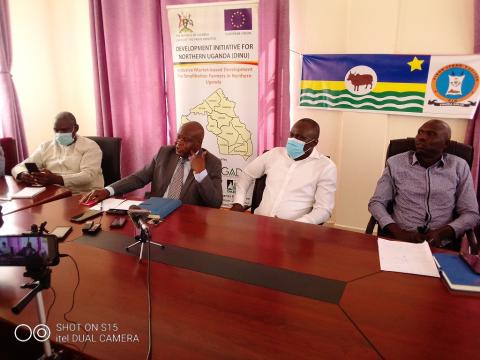 In the picture is the District Chairperson, ACAO Henry Herbert Obale and Mr. Okiria Martin Head teacher Soroti SS, representing the Education Institutions during the press conference held today Thursday 24th February, 2022
From the Communication Office, Soroti DLG
Thursday, February 24, 2022