ACODE INDUCTS SOROTI DISTRICT COUNCIL, DSC, DLB, AND LGPAC
ACODE INDUCTS SOROTI DISTRICT COUNCIL, DSC, DLB, AND LGPAC
ONGOING INDUCTION/ TRAINING OF SOROTI DISTRICT COUNCIL, DSC, DLB, AND LGPAC, at Church Uganda Medical Center.
The two-day training of 10th and 11th October, has been organized by the ACODE as a partnership with the Ministry of Local Government and Uganda Local Governments Association (ULGA).
The induction is being held at Church of Uganda Medical center.
The training is to strengthen accountability and transparency in local government by enhancing capacity of accountability organs of council.
Furthermore, the training seeks to enhance the effectiveness of councils and the statutory bodies by improving on timely reporting by statutory committees and implementation of recommendations of the statutory bodies by councils.
For Starters:
ACODE is an independent public policy research, analysis and advocacy think tank operating in Eastern and Southern Africa. As a public policy think tank, ACODE seeks to make policies work for people.
Since 2009, ACODE and ULGA have been implementing the Local Government
Councils' Scorecard Initiative (LGCSCI), a social accountability initiative that seeks to deepen local governance by strengthening political accountability of elected local leaders and citizens' demand for excellence in the provision of service delivery by their local governments.
By Communications officer 
Ekwaru Abraham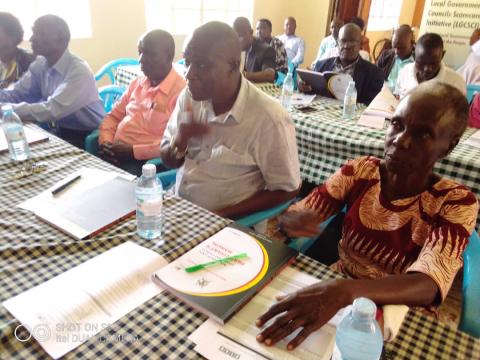 Tuesday, October 10, 2023