MINISTER ANYWAR URGES WETLAND ENCROACHERS TO VACATE
MINISTER ANYWAR URGES WETLAND ENCROACHERS TO VACATE SOROTI –
The State Minister for Environment, Beatrice Anywar Atim, has urged Ugandans exploiting wetlands to relocate as directed by government or else they will face the wrath of the law.
The minister made the call in a speech read for her by the resident district commissioner Soroti, Salim komakech during the celebrations held in Gweri Sub- County to mark World Wetlands Day on February 2, 2023.
The Day, which falls on February 2, every year, was celebrated under the theme, "Wetlands restoration for people and nature".
Anywar further said government intends to gazette wetlands in Uganda to ensure compliance, adding that consistent restoration of wetlands would help eradicate poverty and combat climate change.
Dr. Barirega Akankwasa, the executive director National Environment Management Authority [NEMA], while speaking during the national celebrations cautioned those who have encroached on the wetlands to vacate peacefully.
"Should you not leave peacefully, then government will have no option but to use force and we are in place to do that," he said.
Akankwasa said locals should learn to value wetlands and work hand in hand with NEMA to restore the depleted wetlands.
He said there are over 20,000 illegal land titles acquired in the country's wetlands and that about 3,000 of them have been cancelled. He also warned that those who buy land in the wetlands would not be compensated by government even if they hold land titles.
"People should not be duped because those land titles will be cancelled," Akankwasa said.
Meanwhile, Simon Peter Edoru, the LCV chairman Soroti district, asked the locals to desist from grazing cattle in the swamps.
Edoru acknowledged that they are negotiating with the locals to leave the wetlands, saying that some are ready to relocate.
However, he appealed to government to supply locals with improved rice seedlings that can grow in loam soils so that households leaving wetlands can sustain their livelihoods.
Edoru also urged all people above 18 years to at least plant a minimum of 50 trees come next month when the rains are expected. "We have agreed that all institutions and roads must have trees and we are going to do it as soon as rains fall," he said.
He encouraged people to form groups in order to benefit from the irrigation schemes to sustain their livelihoods. Joseph Okiror a resident of Abia Village, Ggweri Sub-county, said that wetlands have been the only source of his livelihood, as he does not have any other economic activity he is carrying out outside of the wetland.
He appealed to the government to find better solutions for the farmers, saying rice farming in the area is more profitable than any other business.
World Wetlands Day celebrated annually on February 2ND of every year aims to raise global awareness about the vital role of wetlands for people and the planet. This day dates back to the year 1971 when several environmentalists gathered in the Iranian City of Ramsar to reaffirm the protection and love for wetlands.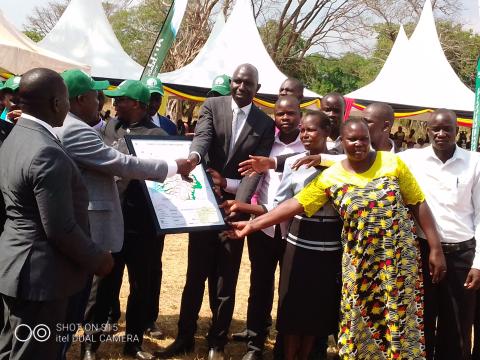 Monday, February 20, 2023